Publication Date:
Wednesday, October 1, 2014
                Canadian writer Douglas Coupland once said "Florida isn't so much a place where one goes to reinvent oneself, as it is a place where one goes if one no longer wished to be found." Perhaps it is the vast difference in climate between Florida and where Mr. Coupland resides that moves him to feel this way about the sunshine state. Then again, perhaps he hit the nail on the head. Advance gross state product estimates released today by the Bureau of Economic Analysis (BEA) showed the value of Florida's output, in constant 2009 dollars, rising from $734 billion in 2012 to $751 billion last year, an increase of 2.2%.  That beat the U.S. increase of 1.8% as well as the Southeast increase of 1.6%, and placed Florida 18th among the states.
                However, before rejoicing over this apparent success, further analysis of this release may be in order. The numbers reveal a continuing Florida shift relative to the nation toward an economy focused on retirees and tourists. In contributions to overall GSP growth, Florida was 31 basis points behind in manufacturing.  More than offsetting that, the state was 45 bps ahead in the sum of wholesale and retail trade plus transportation and warehousing. Retirees and tourism often generate growth in lower-income jobs, such as those in retail trade, which involves jobs at establishments such as automotive dealers, grocery stores, and gasoline stations. In 2013, the BEA estimated Florida's per capita personal income (PCPI) was less than 94% of the national average—$41,692 vs. $44,543. Another example of such an industry which facilitated Florida's 2013 GSP growth but does not contribute greatly to high-skill jobs is accommodation and food services, which contributed 11 bps more to Florida's GDP than to the nations. Growth in this industry indicates the strong contribution of tourism to Florida's economy.
                On a more positive note the construction, finance and insurance, and health care and social assistance industries contributed to Florida's rise in GSP, advancing 10, 11, and 11 bps over the U.S., respectively. Traditionally, these industries pay higher wages on average than retail trade and accommodation and food services and have a strong presence in Florida's economy. However, the arts, entertainment, and recreation and information industries—traditionally having a weak presence in Florida—lagged the nation by 10 and 3 bps, respectively. Professional and scientific services contributed 4 bps more to Florida's GSP than to national GDP, but Florida still lags in this industry as the GSP per capita in Florida is just under 80% of the national average. While strong growth in GSP vs. other states may be welcome in any form as the recovery lingers on, it remains to be seen whether these improvements will serve to gain Florida a competitive advantage over others in attracting high-skill jobs or simply forecast the direction of Florida's jobs in the future.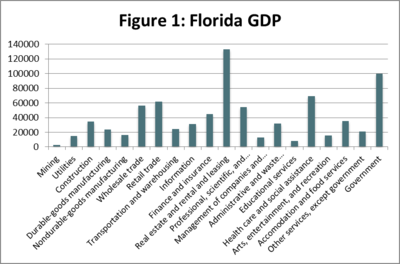 Source: Bureau of Economic Analysis
Source: Bureau of Economic Analysis